Class Slipper
Valentino's Timestrings collection embraces the art of the handmade.
November 09, 2011
Valentino's new capsule collection makes its grand entrance this month in the designer's singular New York boutique on Madison Avenue. Reflecting creative directors Maria Grazia Chiuri and Pierpaolo Piccioli's commitment to Valentino's signature aesthetic and remaining at the pinnacle of Italian couture, the Timestrings collection celebrates the luxury of time as it invites the privilege of creativity. Forty hours, 49 minutes, and 18 seconds elapsed from the time the artisans at the Valentino workshop in Tuscany began crafting these red capretto leather and green ayers snakeskin pumps. Each sumptuous leather petal, painted Valentino red, unfolds one after the next, surrendering, ultimately, to create a bud, the symbol of romance and femininity. As rare as the perfect red rose, only 15 pairs are available in the US, each time stamped and numbered accordingly. Rose pump, Valentino ($1,175). 747 Madison Ave., 212-772-6969
PHOTOGRAPH BY BRIAN KLUTCH
—AMANDA WEINER
The Omega Speedmaster
A deeper look at the first and only watch ever to be worn on the moon.
October 25, 2011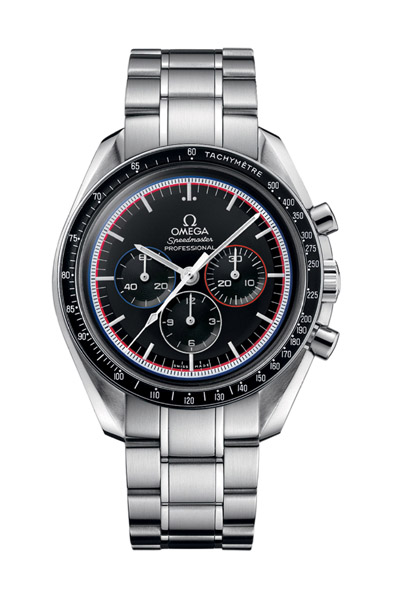 Omega has long been involved in the conquest of space, and has been a part of all six lunar landings.
On March 1, 1965, Omega's Speedmaster chronograph was "flight-qualified by NASA for all manned space missions." That is because the Omega Speedmaster withstood all of the U.S. space agency's severe tests under conditions of zero gravity and magnetic fields, extreme shocks, vibrations and temperatures ranging from -18 to +93 degrees Celsius. It is, to date, the only NASA flight-qualified watch.
Since 1965, Omega Speedmasters have been onboard Gemini missions, Apollo missions and even Skylab. Many recall one of the most significant moments in space history when, on July 21, 1969, the Omega Speedmaster recorded man's first steps on the Moon during the Apollo 11 missions. Omega's Speedmaster is the first and only watch to be worn on the moon. Hence, it has been nicknamed the Moonwatch.
Another significant moment in Omega Speedmaster space timing came in April 1970 with the Apollo 13 mission, when the watch was used to time the reentry and divert potential disaster when certain instruments malfunctioned. The Omega Speedmaster earned the Snoopy Award, the highest distinction awarded by NASA astronauts for that mission.
The Speedmaster was worn on the wrists of both the American astronaut Tom Stafford and the Russian cosmonaut Alexei Leonov during the historic Apollo-Soyuz space rendezvous. This was the first time the cosmonauts also wore the OMEGA Speedmaster. Ever since, the Speedmaster has been the official chronograph of all Russian manned space missions.
Today, Omega continues to be involved in space exploration and discovery. In fact it recently released its new Apollo 15 watch that celebrates the 40th anniversary of that mission, the first in which the Moon Rover was used. The three red, white and blue rings on the dial echo the design of the Apollo 15 Official Mission patch. The 42mm cased chronometer chronograph is created in a limited edition of 1971 pieces (the year of the Apollo 15 mission), and retails for $6,800.
Read more about watches from our timepiece editor Roberta Naas at atimelyperspective.com.
—Roberta Naas
Staff Pick: Sniff Pet Candles
We love these luxe candles that are pup- and eco-friendly.
October 21, 2011

Sniff Pet Candles A Day In The Hamptons candle
From gourmet food to outrageous outfits and plush bedding, we love to extend the joys of the senses to our canine companions. Sniff Pet Candles (from $32) appeal to a dog's sense of smell with aromas that promote therapeutic benefits such as positive mood, energy and an overall sense of health and wellbeing. Because dogs experience the world mostly through their noses, creating a desirable-smelling environment is paramount. In addition to being all-natural, 100-percent green and eco-friendly, a portion of profits from each Sniff candle sale benefits animal rights groups and shelters across the country. Available in a variety of scents, such as A Day In The Hamptons and Splendor in the Grass, Sniff candles are pleasing to human and dog noses alike. And they're an especially sweet breath of fresh air for city dogs that spend a lot of time indoors.
—steve hagendorn
Privacy, Please
Michael Reslan opens a discreet new shop on Madison Avenue.
October 07, 2011
Michael Reslan among his bespoke creations
Suiting sensation Michael Reslan entered the world of men's fashion from a retail background, working his way up from salesman to founder of his own label over 25 years. Reslan had most recently served as executive vice president and director of retail at Brioni, where he played an integral role in the Italian label's expansion to America, before he opened his bespoke tailoring showroom in a penthouse on Fifth Avenue. Building on the true meaning of luxury—personal service, impeccable quality and a unique product—Reslan redefined the modern-day shopping experience for his customers. "Our attitude is measured by our altitude," he says, a motto that carries through all aspects of his business. The goods are all exclusive to Reslan, who sources his fabrics from the finest Italian manufacturers. This month, less than a year after debuting his first showroom, Reslan is opening a new retail space on Madison Avenue, in a discreet second-floor location, which speaks to his continued dedication to his clients. 667 Madison Ave., 212-207-9207
PHOTOGRAPH BY JOHN LEI
Great Escape
Louis Vuitton introduces the ultimate weekend essential.
September 30, 2011
Super-soft calfskin with checkered embossing defines Louis Vuitton's new Damier Infini line. A subtle style evolution from prior collections, this latest launch stays true to the brand's tradition and includes duffels, briefcases, belts, wallets and more. Current colorways include jet-black onyx, cherry-red fusion and off-white arctic, and additional options will be added each season. Just in time for autumn weekend getaways, this keepall is sure to become a most trusted travel companion.
Damier Infini keep-all 45, Louis Vuitton ($2,550 each). 1 E. 57th St.
By rebecca malinsky
Lacoste's Flash Fragrance Mob
Eau de Lacoste L.12.12 debuts with the help of Max Minghella, Grandmaster's Furious Five and a flash mob.
September 23, 2011
Tuesday night Lacoste marked the launch of Eau de Lacoste L.12.12, the sportswear brand's first-ever men's fragrance collection, with a ground-breaking social media installation at Grand Central Station and a performance by the Lacoste flash mob dancing to the live hip-hop stylings of Grandmaster's Furious Five. In what looked like a scene out of Fame, amateur and professional New York dancers performed a mix of ballet, hip-hop and freestyle moves to the Five's "The Message" ("Can't nobody take my style/Can't nobody hold me down").
Social Network star and guest emcee Max Minghella unveiled Lacoste's La Machine installation, a display screen that projects the transformation of a polo shirt into a fragrace. Fans are invited to visit lamachinel1212.com to submit a photo and create a personal Eau de Lacoste L.12.12 video (dubbed "20 Seconds of Fame") that will be remixed onto La Machine (through September 27) for all to see. The installation and user-generated videos shed light on inspirational ties between the classic polo created by René Lacoste in 1933 and the new fragrance collection, a trio of Blanc, Bleu and Vert editions. Like the classic white polo, Blanc is a crisp, clean scent with notes of citrus and ylang ylang while Bleu features cooler, aquatic notes and Vert evokes fresh bamboo grass and violet leaf.
—April Walloga
Art On Wheels
Artist Miguel Paredes lends an artistic twist to cycling gear.
September 20, 2011


"Urban Grass" women's Ascent jersey from Pactimo, designed by Miguel Paredes
Last week Miami-based gallerist Miguel Paredes was named the official artist of the 12th annual Latin Grammy Awards. The honor adds to his recent partnership with Colorado-based international cycling apparel company Pactimo, for which he was tapped to create fresh, dynamic apparel for cyclists. His designs are available for a limited time, beginning with pieces called "Urban Sun Ray," "Urban Grass" and "Magic City."
—maria argüello
Check Mate
Graphic houndstooth prints give fall's accessories a menswear edge.
September 07, 2011

Painted python Prince of Wales envelope clutch and painted python houndstooth satchel, Salvatore Ferragamo ($2,390 each). 655 Fifth Ave.
Chanel's boyish tweed suits and DKNY's sharp tailored separates set a tone for the season that resonated through many a ready-to-wear and accessories collection. Fashion is back to business, taking a cue from classic menswear designs to bring authority to the modern muse. For evening, she distinguishes herself in a tuxedo as opposed to a cocktail dress, and her handbag, whether it be a chic envelope clutch or a shoulder bag for which the strap becomes superfluous, is always carried underarm. Metallic heeled loafers, courtesy of Alexander Wang, add a feminine touch to a masculine staple, and Celine's sleek portfolio bags remove all frivolity.
Salvatore Ferragamo's houndstooth handbags carry home the trend, crystallizing the contemporary take on the must-have bag of the season, with traditional houndstooth, untraditionally translated as a graphic in painted python.
PHOTOGRAPH BY BRIAN KLUTCH
—AMANDA WEINER
Tipping the Scales
Trompe l'oiel takes on new meaning with python pieced boots.
August 31, 2011
FROM LEFT:

Python boots in black and yellow ($2,700) and yellow and turquoise ($2,500), Prada. 45 E. 57th St.
Python has made a definitive comeback this season. At the hands of Chloé's exiting head designer, Hannah MacGibbon, snakeskin was reimagined in flowing neutral chiffon, while Frida Giannini created a fiery painted python bomber jacket for Gucci. Quintessential New York designer Marc Jacobs led the way, with astrakhan and python pieced boots with tonal lace-up detailing, which marched down the Louis Vuitton runway before hitting the streets of Fifth Avenue. Meanwhile, Miuccia Prada's optical play on python (PICTURED) raised the mod look to high fashion, which she paired with the Peter Pan collars and '60s styles that have ruled this season's runways. These boots are among the must-have pieces for fall—practical heavy heels, in a frenzy of vibrant hues and neutrals complement the classics. As New York women know best, it's about finding the accessory to take you through the season—an updated classic, a covetable, hard-to-get piece that's subtle enough to save but statement making to capture the moment.
PHOTOGRAPH BY BRIAN KLUTCH
—AMANDA WEINER
It's in the Bag
When style bloggers and designers join forces, their collaboration is electric.
August 24, 2011
Tina Craig and Kelly Cook let the world know what's in and what's not on bagsnob.com, reporting the latest trends and profiling designers in the industry. From a Twitter conversation between @bagsnob and @dkny about what makes a good handbag, a friendship and partnership blossomed, culminating in a limited-edition collaboration between the bloggers and the designer.
Craig and Cook focused on designing for the "girl who knows what she wants and gets it done herself… and is prepared to go anywhere and do anything, all while looking fabulous." The five styles of handbags in the mini collection—the Tote, the Travel, the Treasure, the Trendy and the Clutch—are designed to fulfill the needs of every DKNY woman. Thoughtful details such as metal feet, specially designed jacquard lining and exterior pockets for quick access on the go are enhanced with bold color and print combinations such as chino matte embossed croc and charcoal leather with a bright lipstickred handle. DKNY, 655 Madison Ave.
'SNL' Cover Party
Gotham
Magazine hosted its latest issue featuring the current cast of
Saturday Night Live
at the Four Seasons Hotel on Monday, February 23.
Around The Web