Gift of the Day: La Boîte à Biscuits
An artful assortment of sweet and savory biscuits hits all the right notes.
November 21, 2011

The La Boîte à Biscuit Fall/Winter tin
For art-lovers with a sweet tooth, this tin of sweet and savory biscuits by La Boîte à Biscuits proprietor Lior Lev Sercarz and artist Jody Morlock is the ideal gift. Each season Sercarz collaborates with an artist to create a tin of unique and scrumptious biscuits. The Fall/Winter tin ($65.95) is stocked with 50 to 60 biscuits in five to six flavors, such as the hazelnut, dark chocolate, and Szechuan pepper Fourmis Rouge biscuit and the salted butter, anise, and Marcona almond Anisette biscuit. A 4x7 keepsake print by Morlock, whose work centers on the the bonds between humans and animals, is enclosed with each tin. gilttaste.com
See all of Gotham's 2011 Gifts of the Day here.
—April Walloga
Tech Find: en&is Megaphone for iPhone
Amplify your tunes elegantly via the Megaphone for iPhone by en&is.
November 21, 2011


The video explains it best, but this beautiful handcrafted piece from Italian company en&is works as a megaphone for your iPhone and as an intriguing piece of sculpture. Though available in black and white (about $541), the gold enamel model is particularly dazzling (about $811).
—jessica ferri
Stunning Vintage Engagement Rings
Gorgeously unique engagement rings that will make popping the question that much more special.
November 21, 2011

FROM LEFT: A vintage engagement ring from Erstwhile Jewelry Company and Erie Basin
There are beautiful engagement rings to be had of all shapes and sizes from many retailers in the city, but two boutiques that cater specifically to vintage rings from the early 20th century have recently caught our eye. (After all, for a piece of jewelry this important why not go the one-of-a-kind route?) Erstwhile Jewelry Company in Midtown sells exquisite estate jewelry, and the engagement rings there are particularly stunning. Make an appointment to take a look at their new arrivals. And Erie Basin, located in Red Hook, Brooklyn, might be a bit of a challenge to get to but it is well worth the trip. Owner Russell Whitmore travels the globe to collect gorgeous pieces of jewelry and art, and his vintage engagement rings are usually swooped up the second he posts them on his blog.
—jessica ferri
Watches: Audemars Piguet Royal Oak
Audemars Piguet celebrates the 40th anniversary of the Royal Oak in 2012.
November 18, 2011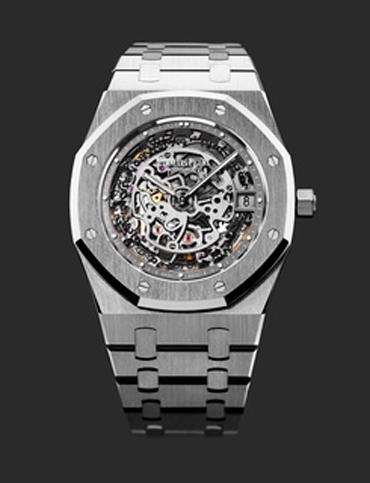 The year was 1972. No, this is not about flower power or other '70s-era memories. This is about the legendary Gerald Genta designing the daring and bold Audemars Piguet Royal Oak watch—a luxury sport timepiece that wowed the world with its magnificent steel case and gold price. The Royal Oak was an overnight success, and today, as Audemars Piguet celebrates the 40th anniversary of the Royal Oak in 2012, the collection remains one of the most coveted luxury lines in the world.
For the 40th birthday of the Royal Oak, Audemars Piguet has deftly blended old with new, heritage and tradition with visionary foresight. The newest Royal Oak Limited Edition 40th Anniversary watch features a 39mm case just like the original. This one, however, is an Openworked Extra Thin beauty crafted in platinum in a limited edition of 40 pieces (naturally). The stunning work houses the ultra-thin self-winding Calibre 5122 that is just 3.05mm thick and beautifully skeletonized. The movement features an anthracite color achieved by galvanic treatment, and the exquisite finishings (circular graining, satin brushing, and more) are all done by hand. The monobloc oscillating weight is entirely made in 22kt gold and bears the raised inscription "AP Royal Oak 1972–2012." The beautiful timepiece is a wonderful tribute to the Royal Oak's heritage. Here we bring you a sneak peek at the watch, as its official unveiling isn't until January 2012 at the Salon International de la Haute Horlogerie in Geneva.

Read more about watches from our timepiece editor Roberta Naas at atimelyperspective.com.
—Roberta Naas
Entering the Twilight
The New York premiere of The Twilight Saga: Breaking Dawn–Part 1 had bite.
November 18, 2011

Nikki Reed and Ashley Greene

Twi as I might, Dispatches has yet to drink the type-O-negative Kool-Aid for the Twilight Saga series like all the crimson-eyed Twihards have. The Cinema Society and DKNY presented the New York screening of The Twilight Saga: Breaking Dawn–Part 1 on Wednesday. Like Star Wars and Gone with the Wind, The Twilight Saga is a global media phenomenon. A must-see, but the interest factor skews seriously girly.
After twi-normous London and Los Angeles premieres, the New York debut felt like a comfortably subdued event spearheaded by Ashley Greene and Nikki Reed.
Reed, perhaps twi-ing too hard, wore a long lemony number from Michael Kors with a pronounced slit and two cutouts on the side. Her lips were red. As she approached, her shoe got caught in her hem. "I just fell on my own dress," she said. "Hold on—it's still stuck. It goes under my heel." Was she happy with the gown? "Yeah, I was a little scared," she said. "But then [her handler] said, 'Just own it. Live in it. Move in it.'"
Of course at that moment she couldn't because her heel was still stuck, so said handler reached down to twi and help.
In the film, Kristen Stewart goes on a bit about not being able to negotiate heels at the wedding. Reed said that even at her own wedding she wanted to borrow the line from Breaking Dawn about just taking off the heels and walking barefoot down the aisle.
Greene wore a long dress by Donna Karan with a white panel that began at the left side of her waist and draped to the floor on the right, leaving a twi-gantic slit. She, too, could barely negotiate the stairs at the theater and had to hold the dress up. (Trend alert.) "Never say never," she said when asked if she'd consider going vampire yet again.

"I like anything with vampires, superheroes, or werewolves," insisted Howard Stern on his way into the screening. Stern then labeled himself Team Edward. "He's my type!"
Spoiler alert: What must one know about Breaking Dawn–Part 1? The wedding dress is gorgeous. Brazil looks sensational. But unless you're a tween, the snail's pace of the film might twi your patience. Barely a moment goes by without the tortured mulling over of angst-ridden self-denial and guilt. The tween message: abstinence. But the Twihard population may not be ready for the rough sex and gore.
The mood felt lighter during the afterparty at Sons of Essex, a cute restaurant/lounge on the Lower East Side with a low-beam ceiling and lots of prints in gold frames. Reed, still in Kors, perched at a long table with pals. Meanwhile, Team Greene (she had changed into a leopard-print blouse) took a corner table in the back. She was twi-mendously sweet to Bettina Zilkha's gorgeous niece Laetitia Krisel.
—jeffrey slonim
photograph by gettyimages.com
An Exclusive Print from Online Gallery 20x200
A limited-edition print of Paris's Bal D'Hiver is a gorgeous get.
November 18, 2011

Cynthia Balfour rehearsing "Fire Vanquished by Snow" for the Bal d'Hiver (1955), photograph by Inge Morath

The Bal d'Hiver was a performance organized to benefit war orphans in 1950s Paris—a dance performed on ice by European royalty wearing costumes donated by none other than Givenchy and Dior. Until now photographs of the Bal d'Hiver have remained unpublished. But online art gallery 20x200—the brainchild of New York gallery owner Jen Bekman—is selling limited-edition prints of an exquisite photograph by Inge Morath (who was Arthur Miller's wife) of Cynthia Balfour at the event in 1955 rehearsing "Fire Vanquished by Snow." (The print is available in three sizes: 10-inches-by-8-inches ($100), 14-inches-by-11-inches ($200), and 20-inches-by-16-inches ($500).) Keep an eye on 20x200: The site features two prints by featured artists every two weeks.
—jessica ferri
Bottega Veneta Releases an Album
A compilation CD features some of Bottega Veneta's favorite music.
November 18, 2011


If you are a fan of Bottega Veneta's designs, you are in luck. The label has released an album called Intreccio Uno, which includes artists featured at Bottega Veneta runway shows and on in-store playlists like the English indie band The Heavy and French pianist Maxence Cyrin. Creative director Tomas Maier, in collaboration with his friend Michel Gaubert, says of the album: "The music we choose for the shows and the stores is an important piece of Bottega Veneta's character. It creates a mood, opening a door into a particular collection. When I work with Michel Gaubert before a show, I always fall in love with something I've never heard before. I wanted to share that experience." The album, which features artwork by photographer Robert Longo, is available in Bottega Veneta stores and at bottegaveneta.com. Listen to a sample here.

—jessica ferri
New Music: Matt Cranstoun
Local musician Matt Cranstoun hopes to hit it big with his second album, The Last Drop of Color.
November 18, 2011

Matt Cranstoun

Like many aspiring musicians, Matt Cranstoun considers bartending a means to an end. But unlike many aspiring musicians, Cranstoun is out of options. The Brooklyn-based singer/songwriter has laid everything on the line in anticipation of his sophomore album, The Last Drop of Color, which is set to debut Saturday, November 19, with a launch party at Mercury Lounge (doors open at 7 PM). Out from behind the bar, Cranstoun sits down with us to discuss his dedication to music, his biggest fears, and which artists influence him the most.
The Last Drop of Color is your second album. In what ways does it differ from your first, By Framed Image?
MATT CRANSTOUN: Production value, mostly. The quality of sound. The first one I recorded at home, all by myself. Not this one. I recorded it in a studio with a co-producer, which was very helpful.
How were you able to make the jump into a studio?
MC: I have a full-time job bartending in the Meatpacking District. I'm really lucky to have it. I put everything I could into making this record. When I was recording I was either at work or in the studio, and getting very little sleep. And then there was still everything else to do.
Sounds like your schedule was already full. What else did you work on?
MC: I designed my website, the graphic arts, the CD… all of it. And then I had to get online.
Do you enjoy promoting yourself?
MC: Not really. It's time I'd rather spend on my music. I don't want to be on Facebook. I don't want to tweet. If you're doing all that stuff, when are you playing? When are you writing? When are you actually being a musician?
It's the age we're in. Everyone connects online.
MC: It is! The struggle of the new artist is to work really hard to not only make music, but to be noticed.
Can you go back to "be a musician" once the record comes out?
MC: I'm going to try. Ideally, I want to go on the road. The one thing that still holds true with music is getting in front of people and connecting with them. It's the one thing I do really well.
Connect with people on stage rather than through Twitter?
MC: If nobody connected with me, I'd have quit a long time ago.
When did you start writing music and performing?
MC: I played drums in a rock band in high school. Everyone was always switching instruments, so that's when I started playing guitar. After graduation I went straight to the studio. I wrote a bunch of songs then. They're terrible.
How has your songwriting changed over the years?
MC: Since I moved to the city eight years ago, I've become an entirely different songwriter. It used to be all about me and my personal experiences, but now I can look at things more universally.
What about you?
MC: I was searching for something when I started doing this whole thing. I was a kid. Over time it developed from something that was fun to something essential.
Always a musician.
MC: It's all I can do. It's all I've ever done. Other people have fallback things. For me, there's a fear I can't do anything else.
Which musicians are your biggest influences?
MC: Van Morrison, Ani DiFranco, Keith Jarrett. And I love high energy, so I'm a big fan of Prince.
If you hear Prince, you know it's going to be a good day.
MC: Absolutely. That guy's a genius. I'd like to be Bob Dylan and Prince at the same time. I'd like to be their child. That would be amazing.
—meghan gleason
photograph by Manish Gosalia Photography
Gift of the Day: A Bally Cigar Humidor
For the man who has everything: A limited-edition humidor handcrafted by Bally.
November 18, 2011
In the tradition of its Scribe Made-to-Order shoes, Swiss shoemaker Bally has created a precious 100 handmade cigar humidors (price upon request). Each humidor is numbered and outfitted with a humidification regulator, digital thermometer, hygrometer, and room for up to 300 cigars. A crowning addition to any luxury man cave or study, this rare and special gift is made with rich Sri Lankan Macassar ebony and bears the Bally crest. It can also be used to store and preserve a pair of Bally's Scribe Made-to-Order shoes. 628 Madison Ave., 212-751-9082
See all of Gotham's 2011 Gifts of the Day here.
—April Walloga
10 Years of 24-Hour Plays
The stars—including Jason Biggs in drag—converged for the 10th anniversary of "The 24-Hour Plays on Broadway."
November 17, 2011

Sarah SIlverman, Justin Long and Jason Biggs

Sir Ian McKellen once called the "The 24-Hour Plays on Broadway" "a totally pointless exercise." But the annual evening of one-act plays, written and produced in 24 hours and staged by stars, has an endearing Saturday Night Live-style, anything-could-go-terribly-wrong quality. The charity event benefits Urban Arts Partnership, a sensational cause that promotes arts education for students in underserved public schools.
This year Montblanc sponsored five plays at the commodious American Airlines Theatre. Doug Wright (Quills) wrote the first play, A Green Room of One's Own, and Derek Cianfrance of Blue Valentine fame directed it. The action takes place just before show time at a charity event. The running joke is that Kathy Najimy's character lives for charity-show acting. She plays opposite Greta Gerwig. A nervous Jason Biggs—in drag—teeters on the edge of hurling. Meanwhile a cocky Billy Crudup, who has performed in the shows for years, plays the old hand giving Biggs a rough time. "He looked hot," Crudup told Dispatches at B.B. King during the afterparty. "I think it was the mullet and the fishnets."
How was it for Biggs? "Surprisingly easy and comfortable," he said. "I'm questioning everything I thought that I was about." Najimy admitted that she does her share of charity acting in real life and that she added a line to Wright's script. "I wrote, 'Dustin Lance Black [Milk] is busy writing bios and being gay.'" Good ear.
Jack McBrayer, in a skimpy maid's uniform, stole the show in The Maid with Paul Bettany, Sarah Silverman (who played a bunny), Megan Fox (also a bunny), and Tracy Morgan, who didn't have time to practice because he was stuck at 30 Rock and simply played a walk-on part.

"I haven't been on a stage since 1998, something like that," said Bettany. "I was terrified. I've never played a piano… awful." But funny.
Gabourey Sidibe won the audience's hearts in Maya's Heart opposite Justin Long, among others. Four Play by Terrence McNally starred Amber Tamblyn as an intern during a reading for a play. She gets sent to Starbucks by the rest of the pretentious characters in the cast—Jesse Eisenberg, Justin Bartha, and Carla Gugino—who only then realize she has a pronounced limp.
"It's funny—when you have such a short amount of time you don't fully realize what you're doing until the audience responds," explained Eisenberg. "Only you do not get another take." "Incredible!" said Tamblyn of the experience, walking at a fast clip as she passed me at B.B. King. "I'm a huge Terrence McNally fan," noted Gugino.
In Dress the Orphans, Rachel Dratch, who has attended nine of the 10 annual shows, gets the charity telemarketing sales pitch from hell from Diane Neal, Rosie Perez, and John Krasinski. Does Dratch get charity cold calls in real life? "I kind of don't," she answered. "I'm not listed."
—jeffrey slonim
photograph by gettyimages.com
'SNL' Cover Party
Gotham
Magazine hosted its latest issue featuring the current cast of
Saturday Night Live
at the Four Seasons Hotel on Monday, February 23.
Around The Web